What Did Midfielder Toni Kross Tell Manager Carlo Ancelotti? Real Madrid completed a brilliant comeback against Manchester City in the Champions League recently. The team came back from a deficit to take the game into extra-time, where they won the tie via a Karim Benzema penalty-kick. This was not the first time that something like this had happened. Los Blancos had done it in the past too when they won three consecutive European titles under Zidane.
To complete such a comeback needs a lot of motivation and team building. The unit has to be mentally strong and this winner's mentality needs to be inculcated. In this, the experienced players have a key role to fulfil. Toni Kroos is one such player and it seems that he did his part in helping his team win the semi-final and go on to Paris, to face Liverpool.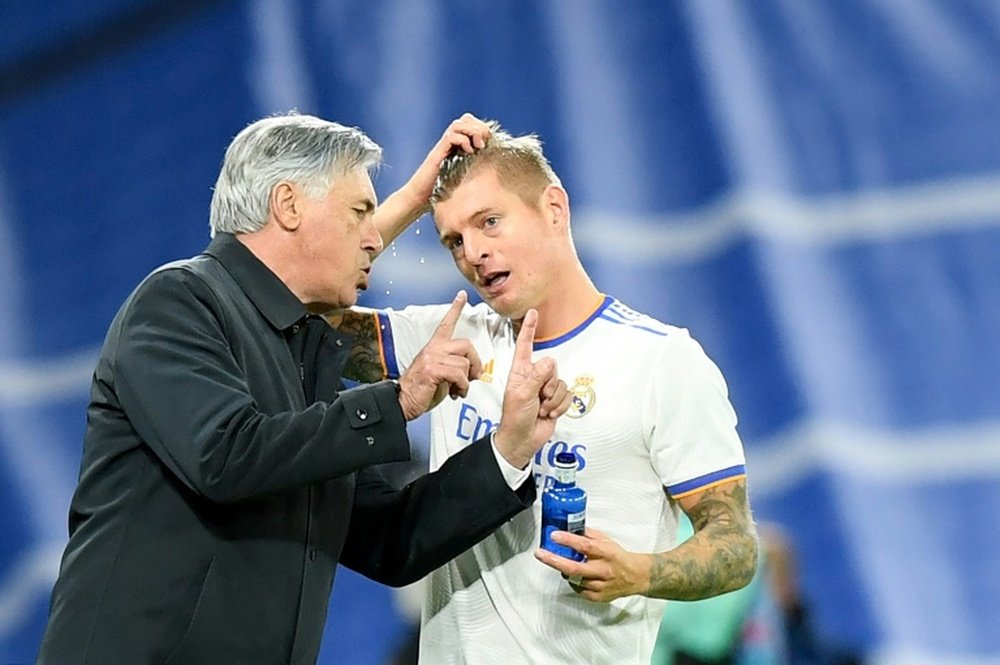 The Recent Comment Made By Toni Kroos About Assisting Carlo Ancelotti
The German midfielder has now stated he assisted Carlo Ancelotti in deciding which players to bring off the bench in the Champions League semi-final against the Cityzens. With just 22 minutes of the match remaining, Rodrygo, a Brazilian attacker replace Toni Kroos.
This has a huge call, with Real Madrid needing two goals in 17 minutes plus stoppage time. If they did score, it would keep their Champions League dreams alive. If not, Pep Guardiola's side would be on their way to yet another final.
The Premier League leaders took the lead just five minutes later, forcing Ancelotti to turn to his bench once again and make more subs. This is where Toni Kroos stepped in and the changes did the trick.
Kroos told DAZN (reported by Goal) that he helped Ancelotti make the changes in their 6-5 aggregate victory. He said, "The coach had some reservations about who he would bring on and who he would not. We [the Madrid players] have all watched a few football matches. This permits you to have a brief discussion. That perfectly describes Ancelotti and why things with the team always go well. It is outstanding. He makes the final decision. He has an obvious interest in our thoughts though."
Ancelotti brought off Luka Modric and Casemiro, replacing them with Marco Asensio and Eduardo Camavinga. This was after Riyad Mahrez gave City the lead, making it 5-3 on aggregate. Eventually, Real Madrid got the job done, just barely and helped Ancelotti reach his fifth Champions League final.